Sinks are one of the essential parts of our bathrooms. Even if the whole bathroom is drab, a well-made ceramic sink can transform its appearance. Also, it can add a luxurious look to it. Thanks to technological & industrial advancements, many materials are available for manufacturing bathroom sinks. Ceramics have been used in various ways for decades. It's evident from the fact that its sanitary ware market size was $44.7 billion in 2020. You might also be tilted towards them. If so, let's take a quick look at the ceramic bathroom sinks pros and cons.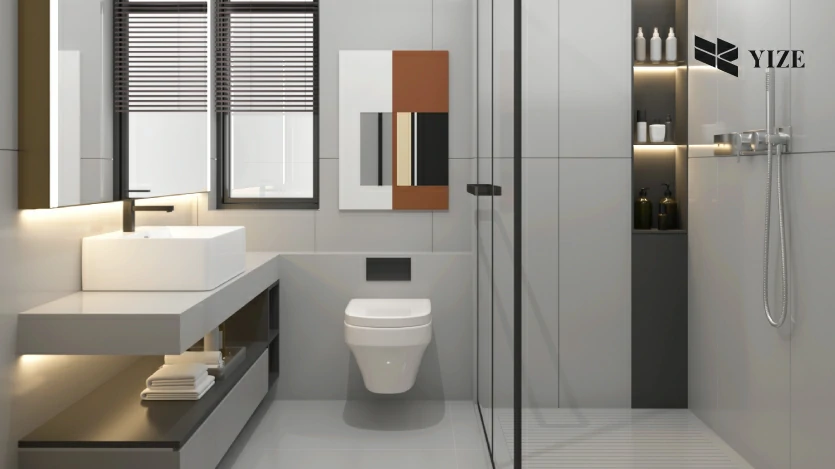 Pros of Ceramic Bathroom Sinks
Durable
People have been choosing ceramic bathroom sinks for decades is their exceptional durability. They don't get chips or cracks. These sinks don't even break when items fall on them by accident.
Due to the considerable use of bathrooms in our daily lives, all items in them should be durable and robust. Therefore, always make sure you install a high-quality ceramic bathroom sink that doesn't show wear and tear.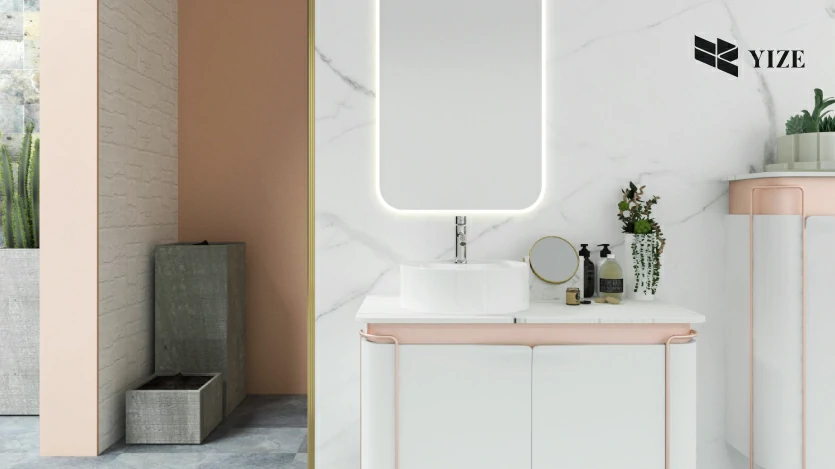 Resistant to Extreme Temperature
Ceramic bathroom sinks made of fireclay. It provides decent resistance to heat and temperature fluctuations.
One family member washes his face with cold water, while the next does that with hot water within moments.
So there are many temperature variations that ceramic bathroom sinks have to experience. Always look for the highest quality ceramic available to last you for years.
Cleanable
When you install a sink, you want it to be easy to clean. Ceramic bathroom sinks have finishes that make them easier to clean in less time.
The surfaces of the ceramic bathroom sinks are very smooth. You need to wipe it off with a clean cloth, and everything becomes pristine again. There's no need to use expensive materials to clean it up, as plain water and some soap can do the trick.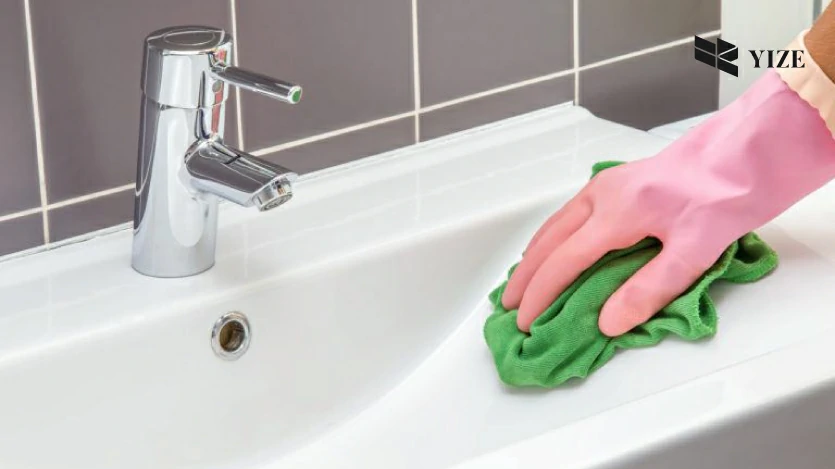 Provide an Aesthetic Touch
Another reason for preferring ceramic bathroom sinks is that they level up the aesthetic value of your bathroom. Today, many top companies produce ceramic sinks for bathrooms using the best materials. They give them a luxurious touch with modern manufacturing processes. It takes the look of your bathroom to a different level.
A Plethora of Styles & Shapes
Ceramic sinks are available in various shapes and styles. They can cater to everyone's taste. A traditional sink style is a drop-in lowered into a cutout. It is secured by under-mount bolts and a silicone sealant.
Usually, it has only one bowl and one tap, but it can have more than one. Undermount ceramic sinks are also available. They are now for those who want a modern shape made using traditional materials.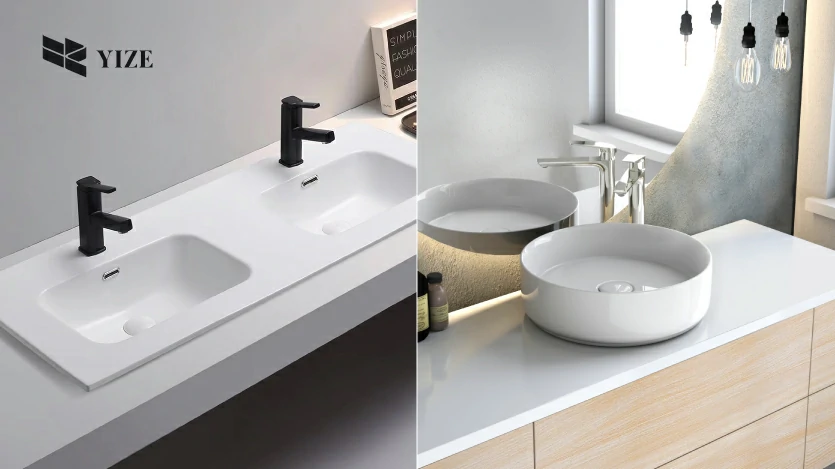 To match your bathroom's aesthetic, you can choose different sink shapes. These include such as oval, oblong, square, etc.
Make sure you select a sink shape that complements the condition of your bathroom. If you have chosen a square design throughout, choose a square sink to streamline the design.
A Variety of Sizes
If you have a small bathroom, a large sink would look out of place and take up unnecessary space. At the same time, a small sink in a large bathroom also won't fit well. Ceramic sinks are available in all sizes, from minor to medium to large, so pick the one you prefer.
Hygienic
Ceramic sinks don't have a porous surface, so bacteria don't get absorbed. Well, ceramic is a porous material. But glazing over its surface can give you optimal results. Bathrooms are places with lots of bacteria, which can cause health problems. Yet, with a ceramic sink, you can reduce that risk.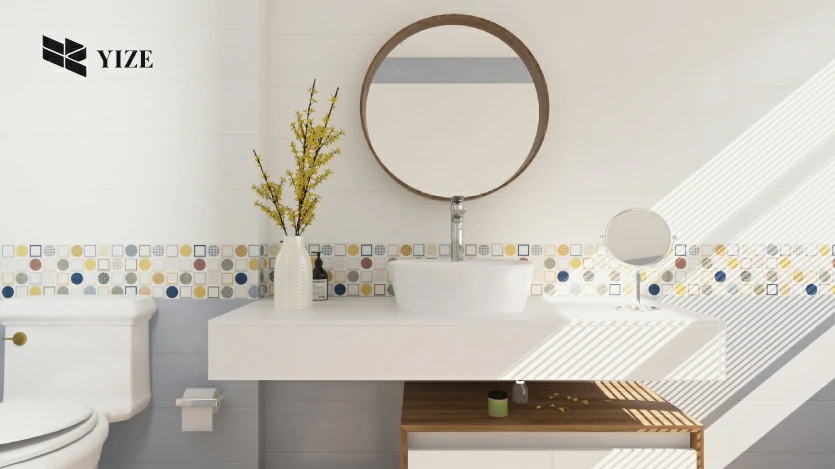 Water Resistance
This is a key consideration for bathroom sinks. These remain in regular contact with water all day. Ceramics offer some level of resistance to water. But due to its porous nature, glazing is mandatory in most cases. Otherwise, water absorption of ceramic bathroom sinks will bring in cracks in no time.
Resistance to Decoloration
It's vital to give our living place a decent and pleasant appearance. The bathroom is the place that deserves the most attention. We choose tiles, sinks, WC, and other sanitary materials in the same colors. What if any of them fades away? This will compromise the appearance of your bathroom. This is where ceramic bathroom sinks can safeguard you. These are resistant to decoloration. Even direct sunlight doesn't cause any considerable damage. After years of usage and ceramic sinks will keep the same pleasant look.
Relatively Easy to Repair
Ceramic bathroom sinks outperform most materials when it comes to ease of repair. For instance, if you're using porcelain. A damaged porcelain sink might take a considerable amount of resources and effort. But, ceramic doesn't fall into that category. Still, care and maintenance are mandatory to use them longer.
Scratch Resistance
Ceramics is a hard material. Hard material replicates more scratch resistance. That's why ceramic sinks can offer you considerable resistance to unwanted scratches. This is vital if you have kids in your home. Other sinks materials might lose their worth in no time. Still, ceramic sinks also need proper care and maintenance to keep them fresh and neat.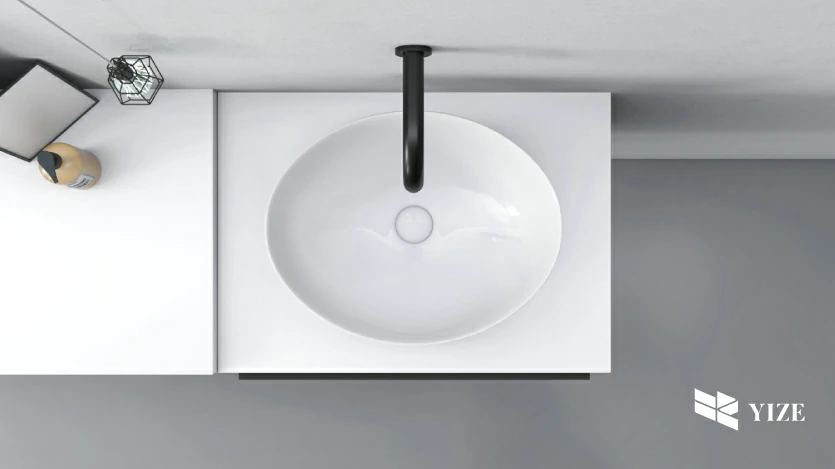 Better for Environment
Ceramics is one of the most desirable materials for making sinks or sanitary items. Even when used for years, it can be recycled for making sinks or sanitary ware. All this without compromising quality or durability. It doesn't disturb the environment, even when it's not recycled.
Value for Money
Ceramic sinks offer great value for money as they last a long time. At the start, they might sound a bit expensive. But their long life and no maintenance need make them a fantastic choice. Most people look at the initial spending. But comparing it with the above factors gives a huge value for money.
Cons of Ceramic Bathroom Sinks
Heavy
Ceramic sinks are usually heavy, making them difficult to mount and install. Always ensure that your benchtop is sturdy enough to support the hefty ceramic sink. You might need to keep the benchtop in some cases too.
Expensive
Ceramic sinks are expensive when compared to others. That's because of their luxurious finish and looks. Thus, ceramic might not be for you if you're looking for a cheap bathroom sink.
Not Hard Enough
Ceramic sinks are tough and can withstand a lot of wear and tear. But, you can still chip or crack them by trying hard enough. Use them with care, as the outer layer of the glaze might get damaged. It will expose the inner surface, which is much more prone to damage.
Cleaning & Maintaining Ceramic Bathroom Sink
Ceramic sinks arebeautiful in black or white in your bathroom when they're clean and well-maintained. But, without proper maintenance, they can get stained. It affects the look of your bathroom too.
So now we're going to tackle the stains on ceramic bathroom sinks. It will help us understand how they can be cleaned effectively. Here are some precautions to keep in mind before you start cleaning:
Using a dish sponge or a cloth as a harsh scrub will damage the glaze of your sink.
Make sure you check the packaging of the cleaners and see if they're suitable for ceramic.
Always follow the instructions written on the packaging.
Cleaning Method 1: With Baking Soda & Lime Juice
Baking soda and lemon juice are excellent for cleaning ceramic bathroom sinks. They end soap scum and rust stains. Here's how to clean your ceramic bathroom sink using soda and lime juice:
Step 1:
The first step is to dampen the bathroom ceramic sink. You can do it by either filling it with water and draining it or splashing it with your hand. Make sure you drain the sink after filling it, as the remaining water can dampen the effect of baking soda. Also, dampen the sponge that you'll use to scrub the sink, but don't make it too soggy.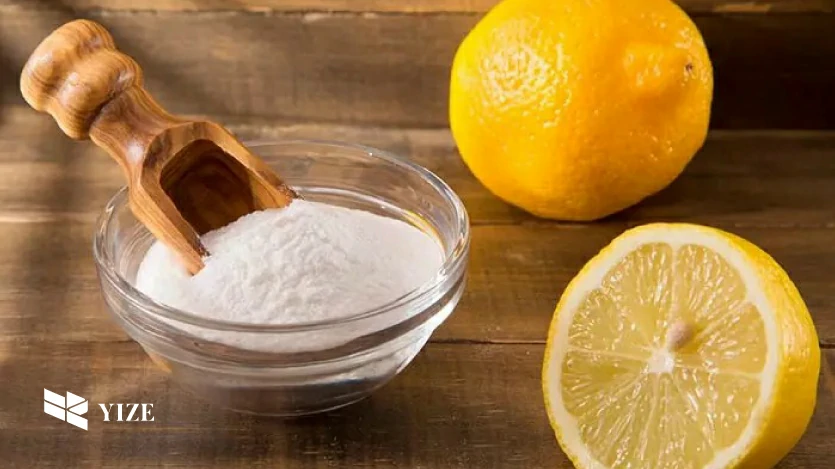 Step 2:
Sprinkle the baking soda with a spoon or your fingers in the basin and coat it. Also, layer the stains heavily with soda for effective cleansing.
Step 3:
Now scrub the baking soda on your sink with the sponge, as it helps clean the dust, toothpaste leftovers, and mineral buildup. Rinse the sponge again and again while rubbing it so that it doesn't get clogged.
Make sure that the baking soda is getting clumpy while cleaning, which is a sign that it is cleaning well. If there are no clumps, the baking soda is too wet and won't clean effectively.
Step 4:
Cut a lemon into small wedges and rub it all over the sink. Squeeze the lemon as you rub it to get as much juice as possible. Rub the lemon skin on tough stains and darkened areas for extra effect.
Step 5:
Now, you have rubbed the lemon juice on the bathroom ceramic sink. Leave the sink for 30 to 60 minutes to work its magic on the stains. Rinse the juice after the wait and let the sink dry.
Cleaning Method 2: Vinegar & Cream of Tartar
Vinegar and cream of tartar both have mild acidity. This is effective for cleaning regular ceramic sink stains and mild rust stains. Here's how to use them to make your sink look like new again:
Step 1:
Mix tartar and vinegar in a 1:1 ratio and make a concoction in a bowl. Stir them well until they mix.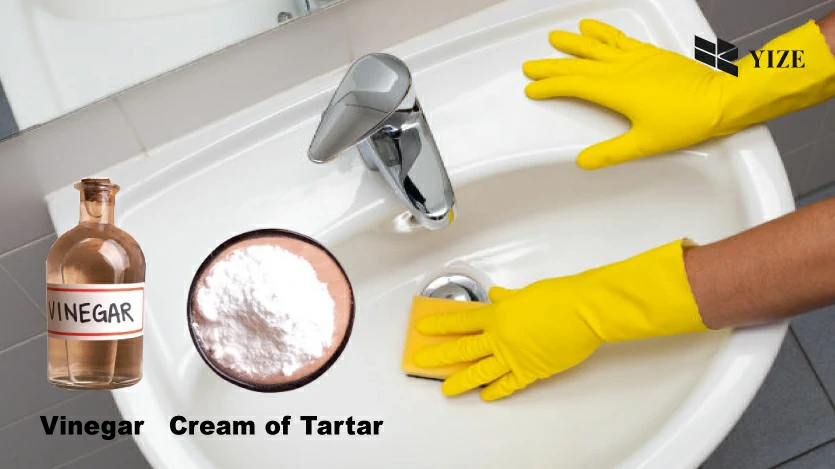 Step 2:
Put the mixture on the stains with the help of a spoon. Make sure you cover all the stains completely.
Step 3: Let the concoction sit on the sink for 15 minutes, which is enough to remove most
stains. Let the solution sit for 2 hours for tougher stains like rust, and keep reapplying every 15 minutes.
Step 4: Use a sponge or paper towel to rub the stains. You can also use a pumice stone, but be gentle, as it can scratch the surface of a bathroom ceramic sink.
Conclusion
This is all you need to know, including ceramic sink pros and cons. They're considered an upscale option for bathrooms worldwide. Also, they're used widely for giving them a luxurious touch. This article will help you weigh the pros and cons of ceramic sinks before using them in your bathroom.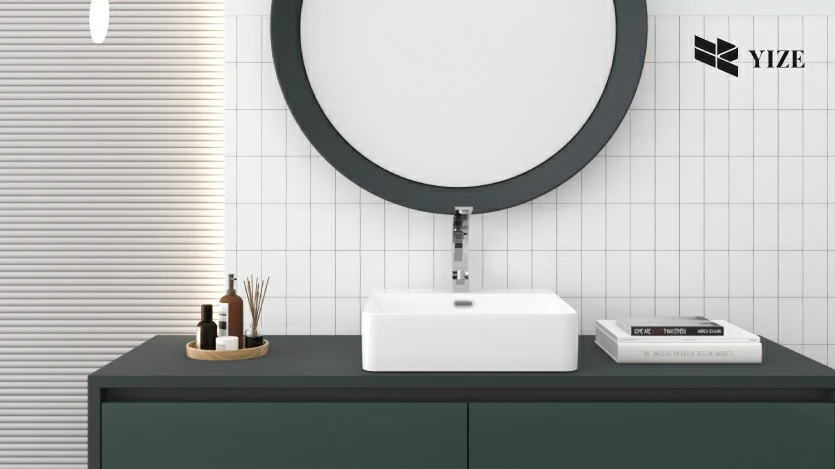 Ningbo Yize Sanitary Ware Co., Ltd is your best pick if you want high-quality ceramic sinks. We have been operating for more than 18 years. And we have become a leading sanitary ware manufacturer. We're committed to using technology to improve our manufacturing processes. Also, we give our customers the best possible product. Send us a message here or call us at +86-574-83001668. You can also email us at INFO@YZDRAIN.COM for further information.