Are you deciding between framed and frameless shower doors for your bathroom? Read on to learn which is the best suited according to your needs.
Shower doors may seem like a small detail in your bathroom, but they can make all the difference. Without them, showers look incomplete and don't match the interiors. The main shower door styles are with and without frames – each has plus and minus points.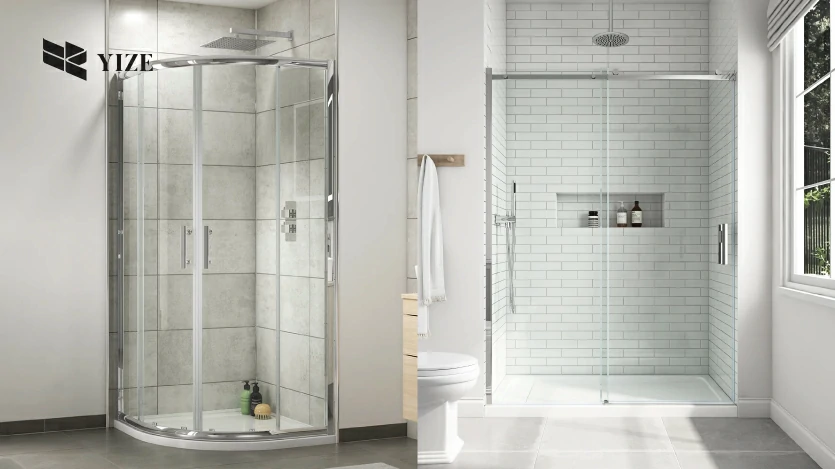 At a glance, they look the same, but you'll notice their differences on closer examination. If you're struggling to decide which option is best for your space, we hear you. Today, we will study both door designs and provide an in-depth comparison. Let's dive headfirst into this comparison between frameless vs framed shower doors!
1.What Is The Difference Between Frameless And Framed Shower Doors?
What are frameless shower doors, and how do they differ from framed ones? If you have the same question, here's a quick answer for you:
1.1 Appearance and Style
Frameless shower doors offer a sleek, modern look and give bathrooms an airy, open feel. Without the framing, you get more natural light into the shower space to enhance its look. Framed shower doors have metal frames around each panel and a metal header at the top of each door frame. This gives them a "boxed in" look that can complement rustic farmhouse bathrooms. Also, metal frames provide more support, making them ideal for heavier glass panels.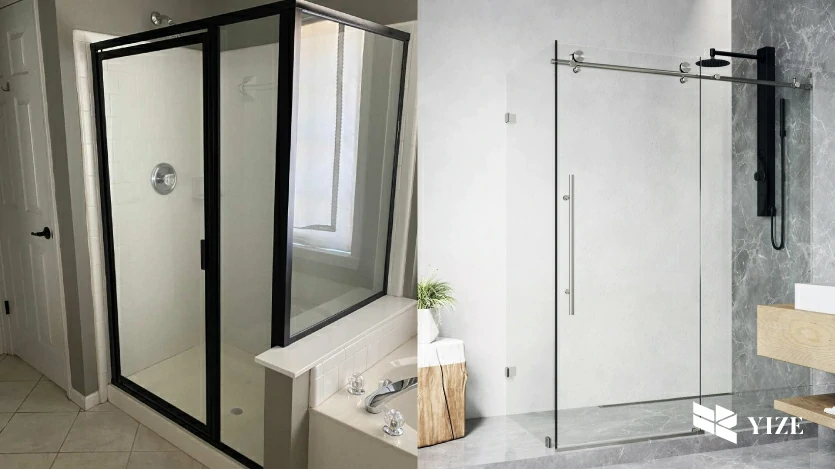 1.2 Structure and Support
Frameless shower doors use safety glass, usually 1/4″ thick compared to 3/16″ thick for framed doors. Such a material difference makes frameless doors less likely to break. Also, as there are no frames, frameless doors give better visibility. But, due to their lack of framing, they need support from wall-mounted brackets. This means they may need more installation time compared to framed showers. You can hang framed doors on rails mounted onto studs. But this depends if your walls are ready for installation before renovations begin.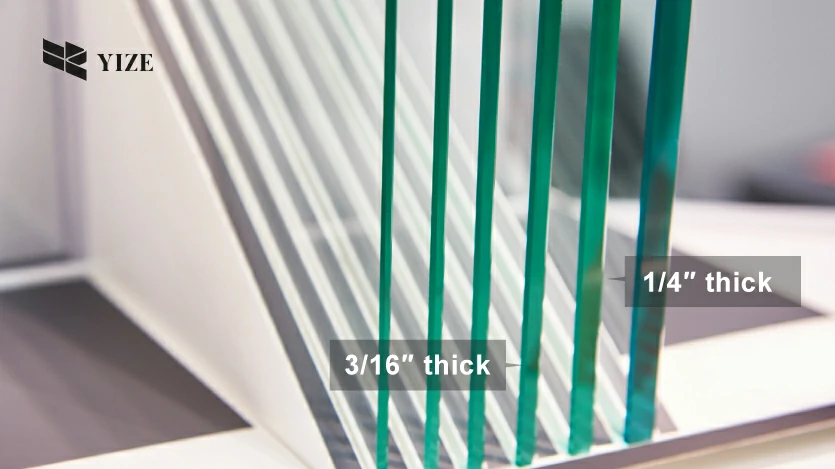 Frameless Vs. Framed Shower Doors – Which One Takes the Lead?
As trends come and go, it can be difficult to set the debate of getting a framed shower door vs frameless one. Well, stop worrying – today, we're diving into both frameless versus framed shower doors. Here's what you must know to pick a winner of the frameless or framed shower door debacle:
2. Cleanliness and Maintenance
2.1 Framed Shower Doors
When you think of traditional shower doors, framed designs are likely what comes to mind. These shower doors can feature individual glass panels that match your bathroom.
The frame around each panel makes them more durable and keeps water from leaking. But when we talk about cleaning, framed doors take more effort due to their grooves. Although you can wipe the frame with a damp cloth or a mild cleanser, the crevices are hard to clean.
To keep these surfaces clean, you will need to scrub them with a non-abrasive cleaner and warm water. Also, framed showers may need more cleaning due to their greater surface area. Debris can accumulate between frames, tracks, and seals that are harder to clean.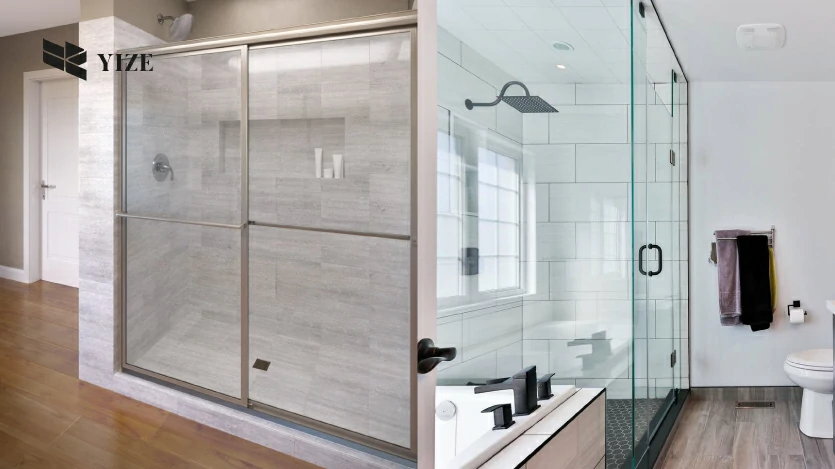 2.2 Frameless Shower Doors
If you like minimalism, a frameless shower door will give off an airy feel and stop water splashes. The lack of frames lets natural light into your bathroom for a brighter atmosphere. Luckily, frameless showers have a minimalist design and have fewer places for gunk. These doors have smooth glass surfaces that you can dry with a paper towel and glass cleaner for shine. This makes them much easier to maintain than framed showers, as there is less surface area to clean. Frameless showers also allow water droplets to run off. You must still wipe down the door to prevent soap scum buildup on the glass panels or around the edges of the door. Frameless showers are easy to clean because they prevent dirt from reaching corners.
3. Durability
3.1 Framed Shower Doors
Framed shower doors use aluminum and plastic seals to prevent water from leaking. These doors are more affordable since they need less material and labor. So, in high-activity family bathrooms, framed shower doors are more practical. Yet, they have a tendency to warp over time due to moisture buildup in the frame. Besides, they don't provide visibility into the shower area as a frame is blocking your view.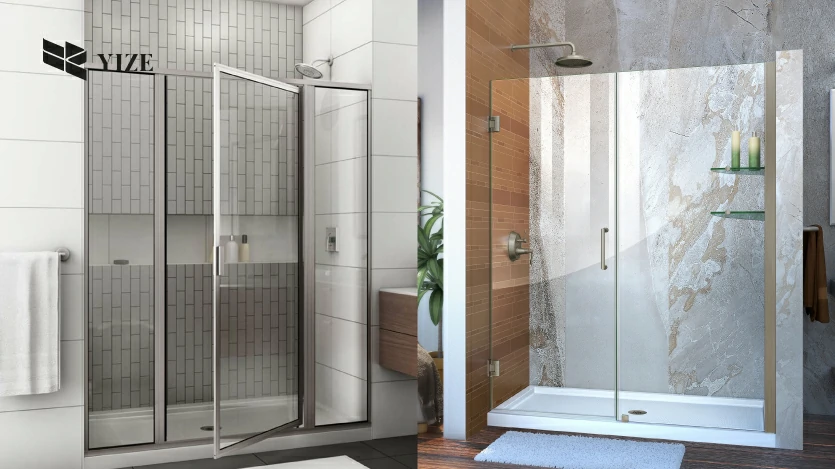 3.2 Frameless Shower Doors
Frameless shower doors use tempered glass cut for your bathroom dimensions. Such a design offers a modern look that can enhance any bathroom space. The heavy-duty glass used in these showers ensures that it won't warp when exposed to moisture. But because there's no outer frame to support the glass, these doors aren't as sturdy as you'd want them to be.
4. Cost & Installation
4.1 Cost of Materials
Frameless glass shower doors cost more due to their heavier weight and thicker glass. The cost difference can range from 10% to 40%, depending on the quality of each product. Since frameless shower doors are thicker, they're costlier.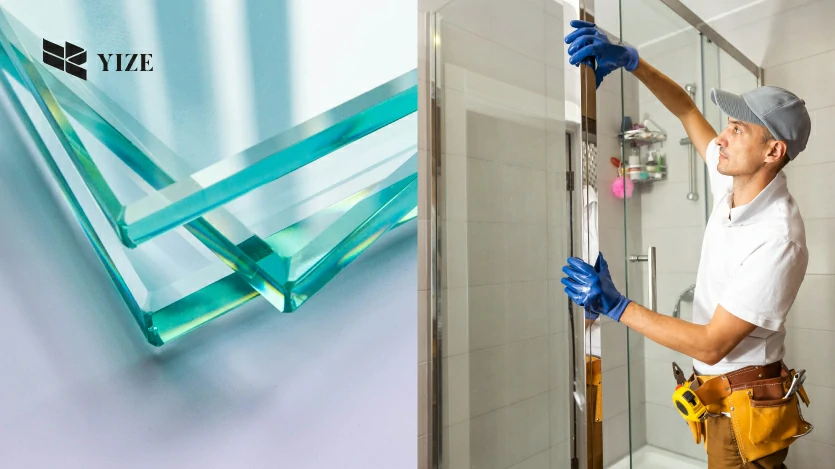 4.2 Installation Expenses
Next comes the installation expense of frameless vs framed shower doors. Framed shower doors take more installation time because they have clamps, screws, etc. Luckily, frameless doors are quicker to install and don't take much assembling effort. Installation expenses for a framed door will be higher due to the time needed for assembly.
4.3 Cost-Effectiveness
If you want a cost-effective option, a framed shower door may be your best bet. It will give you a better bang for your buck in both the initial price and installation fees. But this doesn't mean it's better in aesthetics, as that depends on your preference and budget!
5. Customization Options
5.1 Framed Shower Doors
Framed shower doors have frames in finishes like matte black and brushed nickel. This offers a lot of flexibility when it comes to customizing the look of your bathroom. You can also choose from square or round edges and create an aesthetic design. Framed shower doors also have panel options like frosted glass and offer customization. The frames also provide stability, making them perfect for high-traffic bathrooms. But with a framed shower door design, the frame will take up space and limit the light entering the bathroom.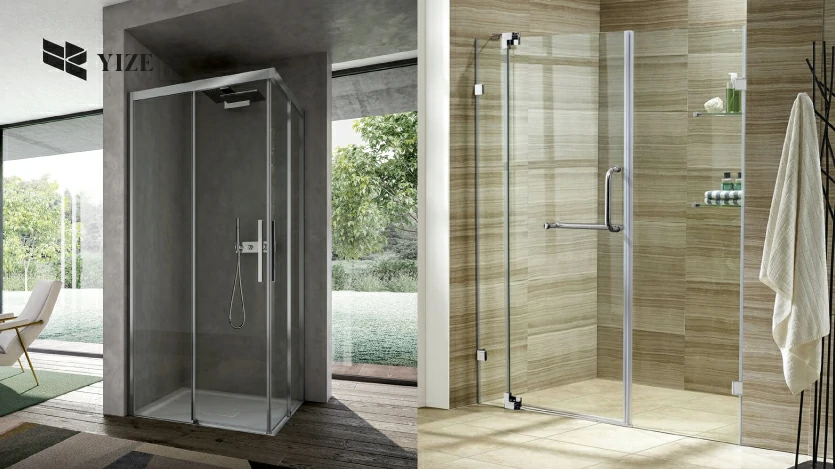 5.2 Frameless Shower Doors
Frameless shower doors use glass panels connected with hinges. But remember that frameless showers may need support since there are no frames. So if you're ready to spend a little extra to get that aesthetic vibe, go for a frameless shower door design.
6. Water Sealing Ability
To stop the steam from clouding the bathroom, check the water-sealing ability of a shower door. This is especially needed if you prefer hot showers but don't want to deal with the steam afterward. So, here goes: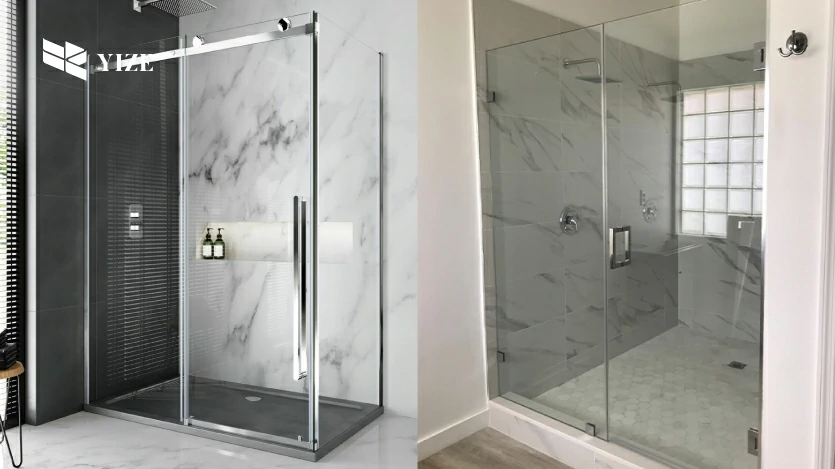 6.1 Framed Shower Doors
A shower door's metal frame creates a barrier around the perimeter. That's why framed shower doors suit showers in bathrooms with limited space. While framed shower doors provide decent water sealing, they can also corrode. Over time, this corrosion can cause water leaks and other problems if not addressed.
6.2 Frameless Shower Doors
Frameless models use glass panels held together by heavy-duty hardware. Frameless designs offer superior water sealing ability because they don't have metal parts. They also have a modern look that many people prefer over traditional designs. The only downside is that frameless shower doors need support to remain secure.
7. Aesthetic Appeal
When selecting a shower door for your bathroom, the aesthetic appeal should be a priority. The look of a shower door can influence how your bathroom looks and affects the room's function and feel.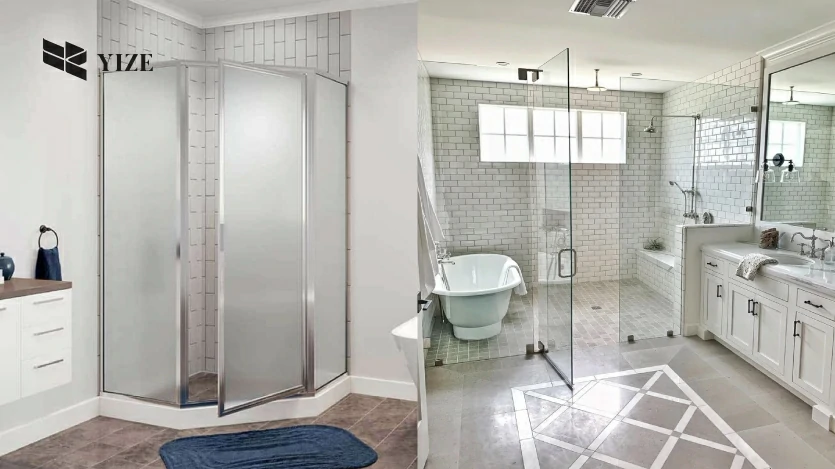 7.1 Framed Shower Doors
When it comes to style, framed shower doors offer a classic look of traditional interiors. They complement warm wood finishes and neutral colors very well. But, if you prefer something modern, these may not be the best option as they appear bulky.
7.2 Frameless Shower Doors
Frameless shower doors have a luxurious feel and look excellent. Their designs feature no frame; instead, they use thicker tempered glass panels. Such a door is heavier but provides superior strength and an unobstructed view. In aesthetics, frameless showers look great in contemporary spaces with clean lines. The lack of frame allows them to blend with surfaces and bring a minimalist feel to your bathroom. But these doors may appear too sleek for rustic interiors as they can contrast with wood or brick walls.
8. Space & Railing Requirements
8.1 Framed Shower Doors
In framed shower doors, an important factor is whether the door has an aluminum frame. If it does, the bottom rail must be at least 1/4 inch thick to support the door panel and prevent it from sagging. And if you install a glass panel with a thicker frame than 1/4 inch, you will also need bars along either side of the door.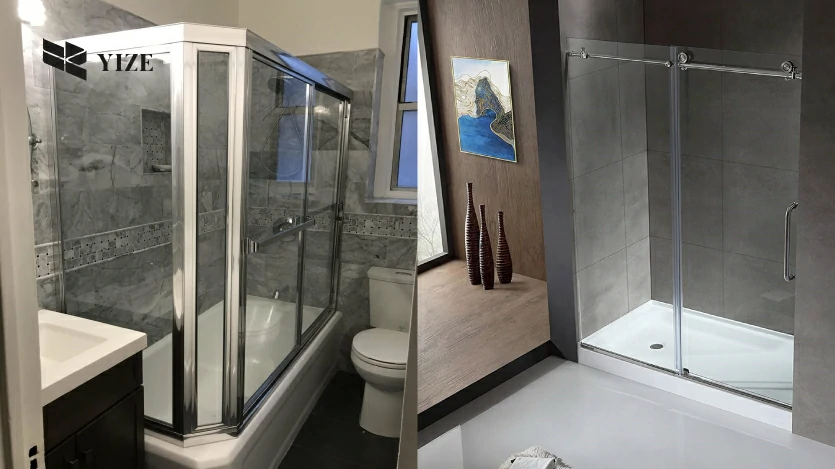 8.2 Frameless Shower Doors
Frameless shower doors rely on a heavy-duty rail and can support up to 200 pounds without warping. These rails are thick and add extra strength to your door panel.
Rounding Up
Both shower doors offer unique benefits in style and function. Framing can bring stability to the door, and frameless ones blend with all interiors.
When it comes to comparing framed and frameless shower doors, there is no clear winner. Choosing one depends on your style preference, budget, and space. Frameless doors offer a modern aesthetic with their seamless look and are easy to clean.
Likewise, framed doors have a classic look and are better suited to withstand heavy use. Whichever style you choose will depend on how much time and money you wish to spend.
Whether it is the timeless framed door or the minimalism of frameless, it will look superb. These door designs provide advantages that can help make your home an oasis in more ways than one. Also, selecting the right shower drain can impact your shower's practicality. So, install a drain designed for your shower since it is mandatory for daily use.